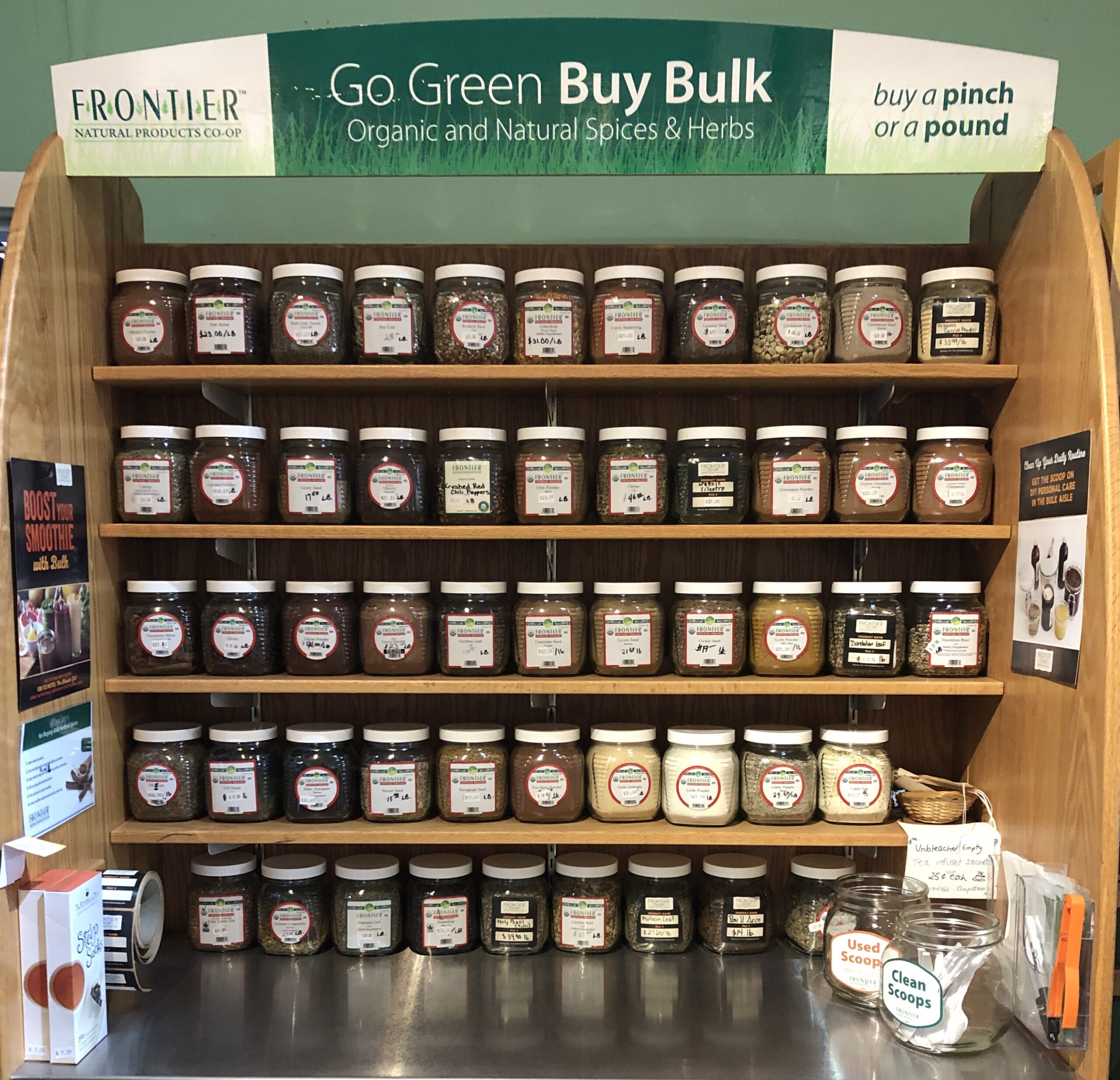 Need spices and herbs at prices you'll love?
Little Leaf Natural Products has a large selection of organic herbs, spices and teas available in bulk from Frontier Co-op, a member-owned company in business since 1976. Our bulk section is located next to the front counter and has a great variety–from allspice to yarrow, along with a wide variety of teas and herbs.
You'll find all the typical spices you would find in a grocery store like garlic granules, onion powder, basil, oregano and thyme, for just a few examples. And we have spices you only need a little of once in a while, like cloves and coriander, tarragon and taco seasoning.
There are lots of great reasons to buy spices and herbs in bulk, but here's the main reason: Price! You're not paying extra for packaging.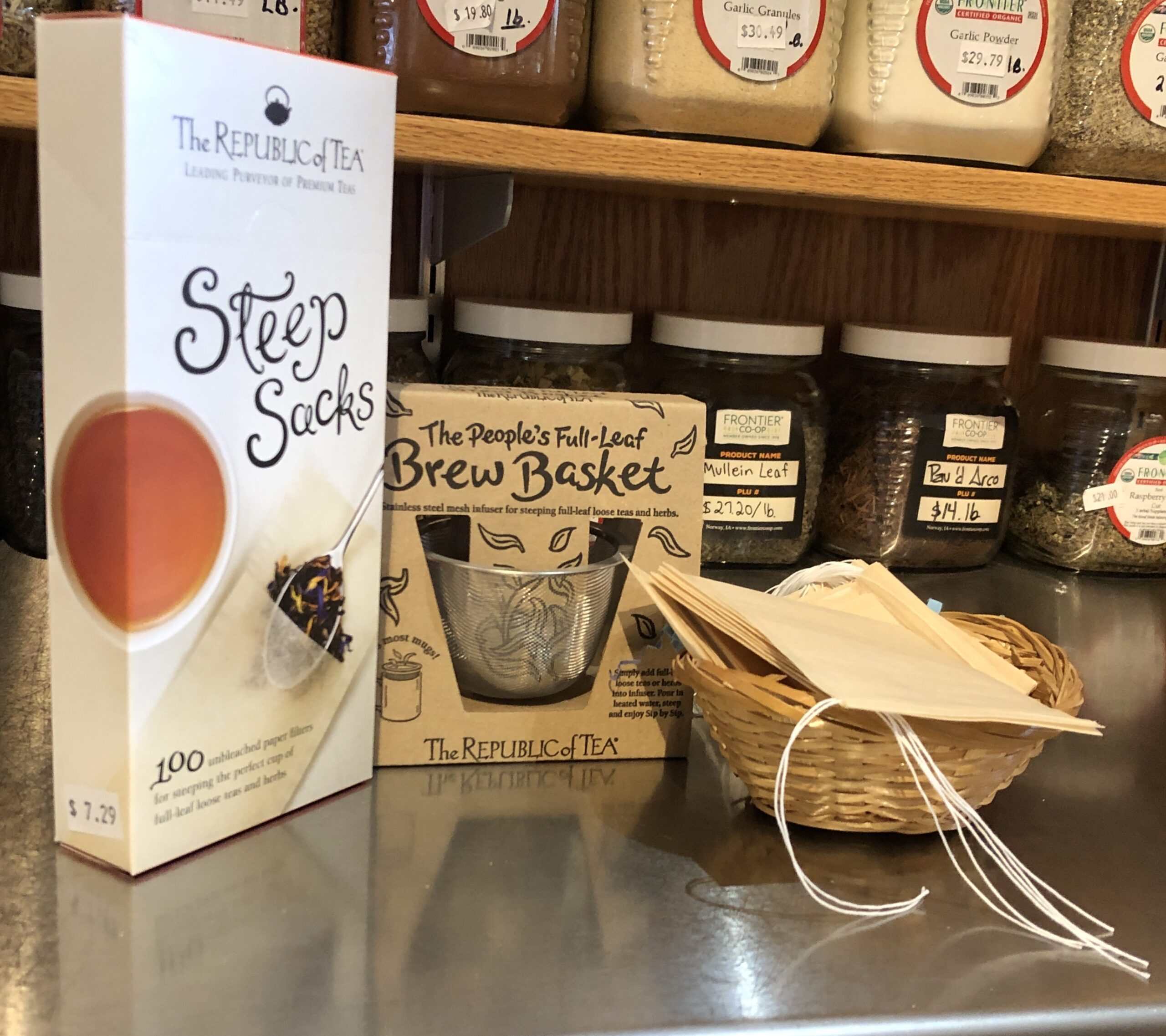 You will also find teas like Earl Grey, peppermint and Yerba Maté and herbs such as slippery elm bark, milk thistle, and stinging nettle, plus dried elderberries and mullein leaf. We can sell you steeping bags, either singly or in a box, and we also carry empty tea bags and tea balls for filling with your own looseleaf teas.
We caught up with customer Justin Jennings recently. He said he likes to buy spices from the bulk section because "I can get as much as I need when I need it." Justin likes to make his own spice rubs for roasts and vegetables and found just what he needed.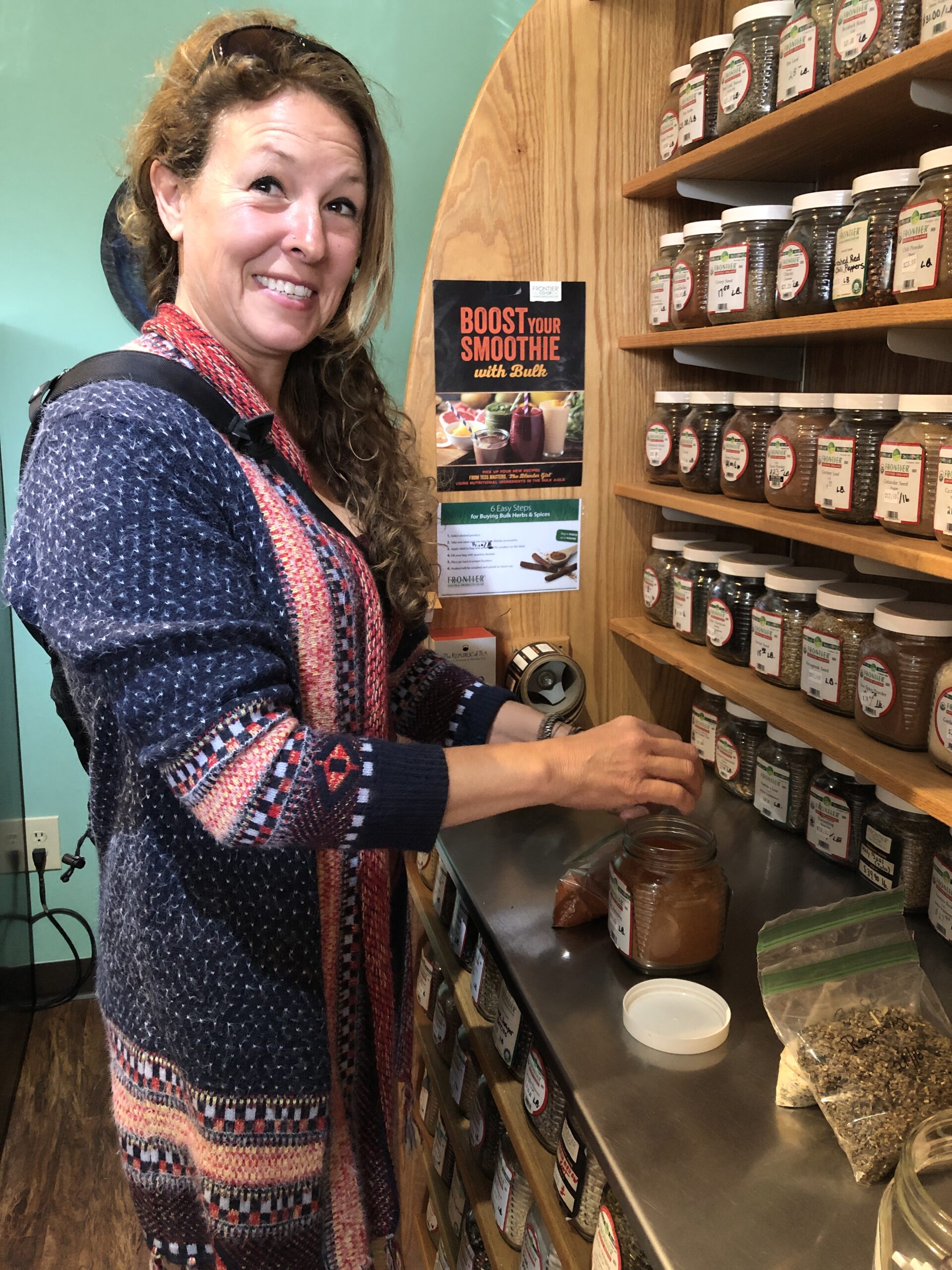 Little Leaf regular customer Samantha Ellsworth likes bulk spices because they're fresher. Our turnover is pretty fast, so spices don't sit around for very long.
Justin added that he likes that Frontier Co-op is a "clean" company and that their products will be fresh.
With bulk packaging, you can buy as little or as much as you like. Each spice, herb or tea is stored in a large glass jar with the price per pound displayed. Some items sound pretty pricey per pound—like cardamom powder, which clocks in at more than $75 per pound—but it only costs a couple of bucks if you just need a little.
You can also cut down on throw-away packaging by bringing in your own spice jars. We weigh them first on our produce scale and hit the "Tare" button. The tare function "remembers" the weight of your jar. Fill up your jar, weigh it again, and you're only charged for the weight of the product.
Forgot your jars? No problem. We can bag your selection in paper or plastic.
You are welcome to bag your own spices. We keep small plastic zipped bags as well as small paper bags at the bulk section, along with plastic spoons to scoop with. We ask that you write the price per pound on the bag. Or if you'd prefer, we can bag your spices for you.
And if you want to start a collection of matching spice jars, we can help with that, too. We stock four-ounce glass jars for just $2.99 each.
Come check out our bulk section and #shoplocal.