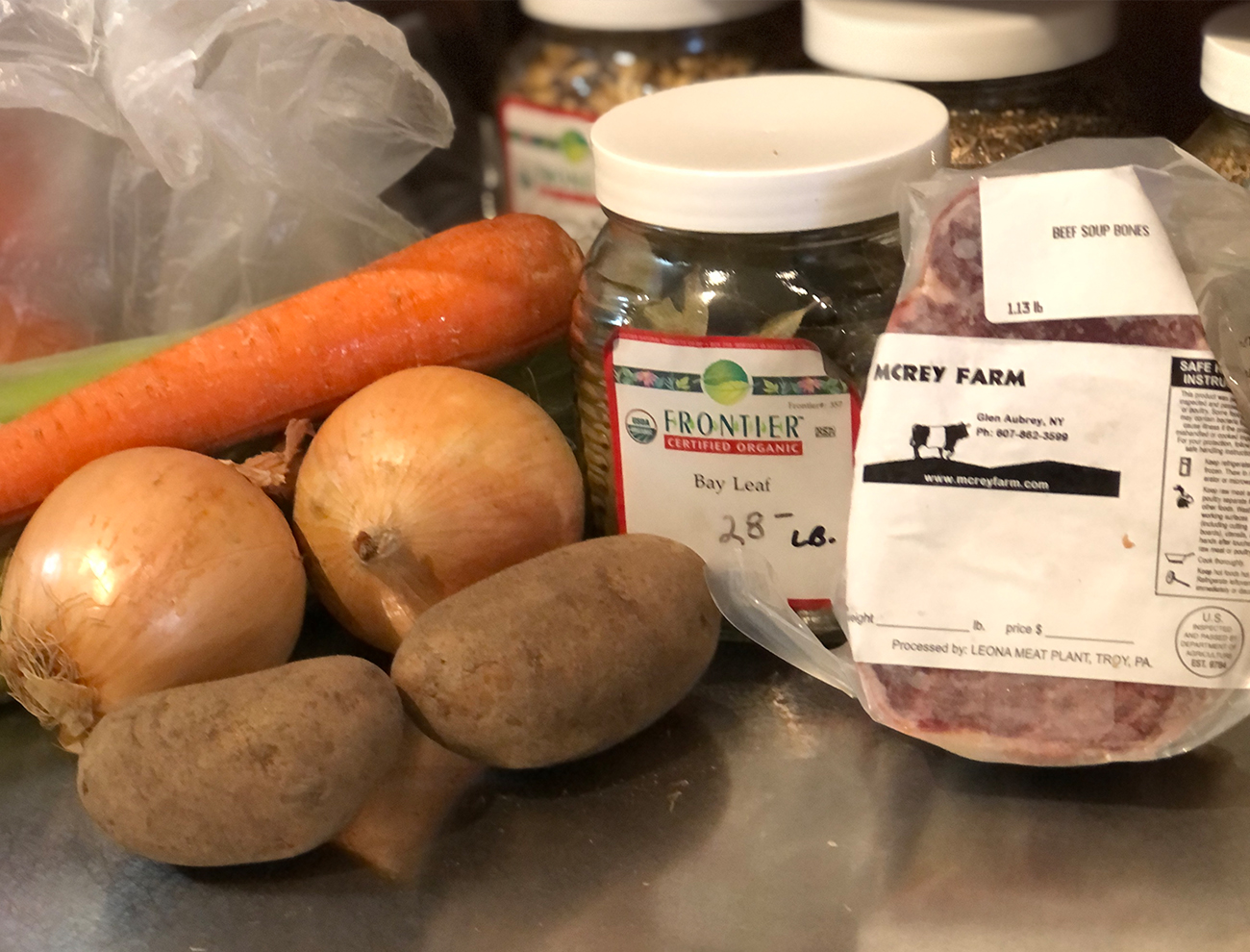 It's Soup Season!
Try a meaty soup bone from Little Leaf Natural Products and enjoy easy homemade beef vegetable soup
Liz here with a recipe for something I'm calling bone broth vegetable soup. 
We've all heard how good for you bone broth can be, full of protein and collagen, which  are the building blocks of bone and joints, hair, skin and nails. My herbalist/Traditional Chinese Medicine practitioner had recently recommended I drink bone broth — she said I needed more protein, liquids, and warm, cooked foods. 
I started with a soup bone from locally raised, grass-fed beef. The soup bone was heavy with so much meat, I decided to keep the meat in with the broth and make a rich, meaty, vegetable beef soup rather than broth, with lots of diced onion, carrots, celery and potatoes. I cooked it all long and slow so that the soup would be full of nutrients from the bone and meat and veggies. 
I started with a bone broth recipe I found online at www.wholefully.com.
First, cook the soup bone in a roasting pan in a 425-degree oven for 25-30 minutes until the meat is seared and brown. Throw a few potatoes in to bake, too, which can later be diced for your soup. (I like to throw a few potatoes in the oven whenever it's on, just to have baked potatoes around.)
Pull the meat from the oven and put it in a big pot on the stove.
Add:
8 cups of water
one chopped very large carrot or two medium-sized
two medium onions, diced
four celery stalks and leaves, diced
Dice two large potatoes to add later. 
To the soup, add a tablespoon of apple cider vinegar, a teaspoon of salt, 2 bay leaves, and 1/2 teaspoon of peppercorns, and whatever other spices you like in your soup. Maybe some rosemary and thyme and plenty of garlic. 
This is a very easy recipe to change up whenever you make it: add some more celery or some cabbage this time, maybe some zucchini and extra garlic the next time you make it. After all, recipes aren't rules, they're more like guidelines. 
Bring the pot to a boil, then lower the heat to a gentle simmer. Cook it long and slow, at least  two hours, stirring occasionally. Add the potatoes toward the end so they don't turn out too mushy. 
When it's all fragrant and the meat is falling off the bone, take the meat out of the soup, remove the visible fat, cut the meat off the bone into bite-sized pieces, and return the meat to the soup. It's ready to eat when the potatoes are tender. 
This recipe also adapts great for a slow cooker.